A graduate of Tyler School of Art at Temple University (BFA, Magna Cum Laude, MFA) in Philadelphia, Pennsylvania, Simmie Knox as an artist has specialized in oil portraiture since 1981. Prior to that, he taught at various colleges, universities, and public schools in Delaware, Pennsylvania, Maryland, and Washington, D.C. During the 1970's, Simmie exhibited as an abstract artist and worked for the Museum of African Art in Washington, D.C. In 1971, he participated in the
Thirty-Second Biennial of Contemporary American Painting
at The Corcoran Gallery of Art in Washington, D.C. with his abstract art.
He turned to portraiture after years of painting a wide variety of paintings because he found that there is nothing more challenging and interesting to paint than the human face. He states "I think that a good portrait is the most difficult thing for an artist to bring off successfully. Not only must you get an accurate likeness, but you must also create a good painting. Somehow you must convey a subject's character, spirit, and personality;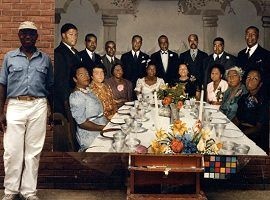 and everything must communicate the dynamism of the subject."
Simmie has been commissioned by private individuals, organizations, and institutions and has painted portraits of a U.S. Supreme Court Justice, a U.S. cabinet member, U.S. congressmen and state senators, a mayor of New York City, respected civic leaders, sports figures, entertainment celebrities, educators, judges, religious leaders, military officers, businessmen, and private individuals.
All portraits are done with oil paint on oil-primed linen. References are available upon request. Prices vary according to size, composition, number of subjects, and amount of detail in each portrait. Customer satisfaction is guaranteed. Resume and portfolio available upon request.